Jewel Box | White Salmon, WA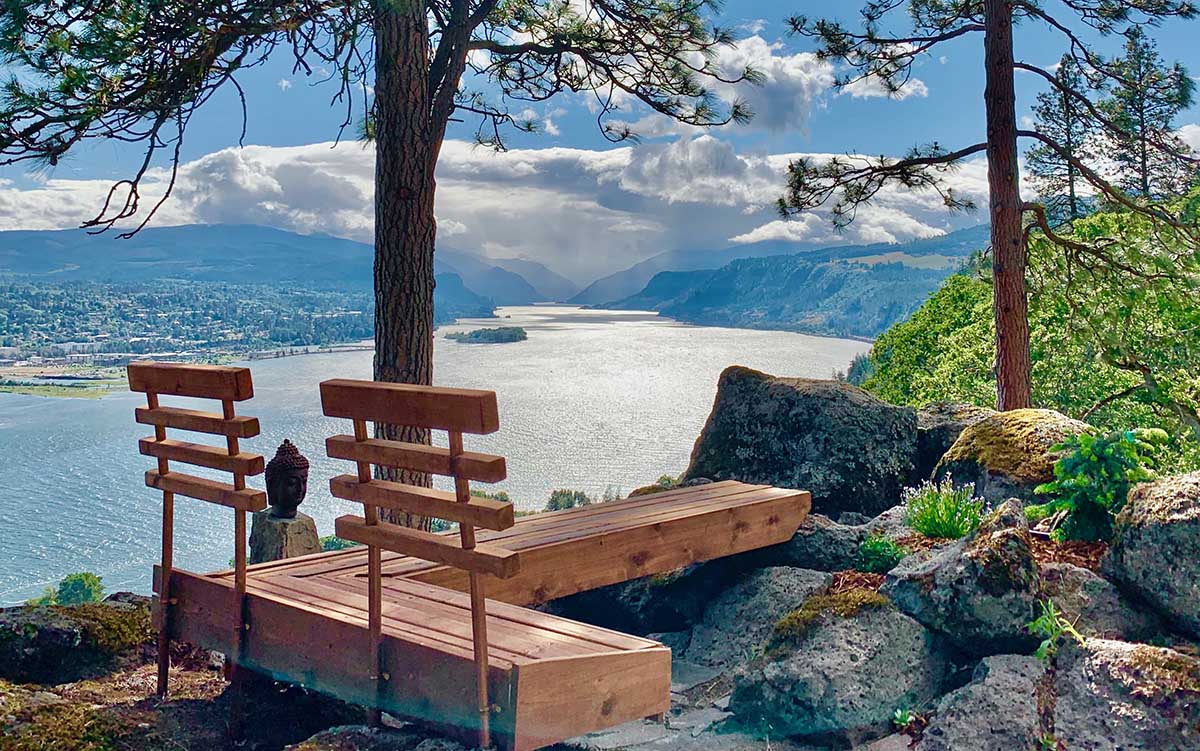 About the Property
White Salmon, WA
This architectural jewel box is perched on a 700-foot-cliff with 180-degree vistas of the stunning Columbia River Gorge and majestic Mt. Hood. This European-style home was designed, hand-crafted, and nurtured as a labor of love since 2004.
Nestled on .36 acres of spacious terraced landscaping, stone patios, large basalt boulders and a hot tub with a view creates a meditative space to relax. A discerning eye will enjoy the interior with hand-crafted joinery, massive beams with dowel, and peg fastenings. The 2-foot thick walls are made of straw bales covered in stucco on the lower level and old cedar heartwood barn siding on the exterior of the upper floor.
Radiant floor heat ensures the acid-stained concrete tile floors are warm to bare feet. Windows that open keep a cool breeze flowing in the summer. The 2-foot thick walls insulate for sound and help the house stay cool in summer and warm in winter.
There is a quiet office space in the detached garage that has heat, a desk, a queen bed and storage space. There is no bathroom in this structure. The garage attached to the house is locked for owner storage.
There is parking for 2 cars at the end of the 100-foot private driveway. From the quiet neighborhood, it is a very short walk to downtown White Salmon.
Seasonal Rates
$345 – $475 per night
$3,000 – $7,500 monthly
Call 541-386-3845
This property is available only for stays of 30 nights or more and must be booked by calling our office at 541-387-2361
$250 Non Refundable Damage Waiver
Hotel linen service weekly including toilet paper, soaps, paper towels included
Move Out cleaning fee $370
Two-story straw bale house

Incredible Columbia River and Gorge views

Guests

2

Full kitchen

Bedrooms

1  –  1  King, Downstairs

Baths

1  bath – Tile Shower, Upstairs

Air conditioning
Radiant floor heat

Parking

Off Street
Internet

High speed wifi

Entertainment

Smart TV

Laundry

Storage Shed

Exterior

Large lot with outdoor spaces

High end finishes with special details

No Pets
Location
White Salmon, WA